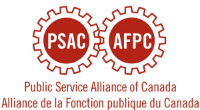 Hi,
When bargaining began last June, I honestly didn't think that almost a year later, I'd be writing this.
Despite all Prime Minister Justin Trudeau's promises to be different from Stephen Harper and restore respect for public service workers, his government has been unwilling to address our workplace concerns at the bargaining table.

The last two bargaining sessions were even held in the presence of a federal mediator, but still nothing.
Our various proposals to improve working conditions have been ignored. The government is also resisting fair wage increases even though our last raise was in November 2015.
And, of course, since that time we've all had to deal with the Phoenix nightmare.
We're now just a few months away from the next federal election, and we need to tell the government to make it right. We deserve a fair contract now!
Use our e-mail tool to send a message to the Minister of National Revenue, the Honourable Diane Lebouthillier.
You can use our suggested message or take a few moments to personalize it.
Marc Brière
National President
Union of Taxation Employee